Authenticity and Connection: Separate words that hold great value for most people who want to enjoy a genuine life.
What if our goal for 2013, and for the rest of lives for that matter, was to have an Authentic Connection with ourselves, our friends, our families, our god/spiritual being and nature?
What would that feel like? How would we manifest that with others?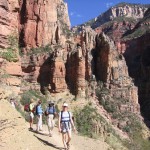 When I think about all of my adventures in the outdoors, I think about how the connection to nature is one of the most authentic connections in my life. Nature doesn't judge, it just is. It can be stormy, sunny, or just gray and blah. It is, what it is. My friends, that's authentic.
How we connect to nature and people is through our attitude. We can be blah, sunny or stormy, but how we approach those moods with others depends on our relationship with that feeling. We can view a stormy day on the trail as pure drudgery or we can approach it with the sense of adventure and gratitude. How we embrace nature when it's showing it's authentic self determines our level of enjoyment.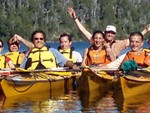 You may ask, "So, Dean – how does this relate to traveling with friends and family on adventure tours?". My reply: "we seek to have an authentic connection with our loved ones, whether we want to admit it or not". Sure, we want to experience new countries and areas that have been on our adventure bucket list for years; but think about how those experiences could be further enhanced if it were shared with friends and family?
What if we went a step further and we: 1) explored the adventure destination of our dreams, 2) with the people closest to us and 3) developed a deeper, more authentic connection with each other through these adventures? Just think of the possibilities.
At Return On Adventure, we want each and everyone who travels with us to be transformed by, and to transform, our relationships. This includes the relationships with nature, our friends, our family, our god/spiritual being and ourself. Let's make 2013 the year we develop our Authentic Connection in all areas of our lives!