Welcome to Boulder Taste of Adventure!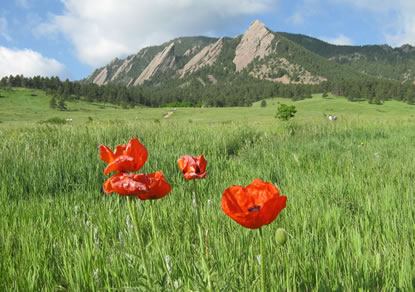 Boulder, Colorado is a very active, outdoor-oriented and vibrant community. Some residents and visitors are world-class athletes, but others, like you and me, just want a "Taste of Adventure" so we can still experience the thrill of participating in the outdoors without the huge commitment.
Inspired by the I Love Boulder campaign, Return On Adventure is offering low-stress, fun mountain biking lessons. These classes are designed for the women or men who aren't world-class athletes and want to learn to experience outdoor activities that focus on fun!
Special Note:
Return On Adventure is sponsoring $25 bike lessons on April 24 & 25, 5:00-7:00pm each day (weather permitting). Space is limited to two riders for each two-hour lesson in order to provide you the highest quality experience.
Our two-hour lessons are normally $75 per person and limited to two riders. We will customize your lesson to fit your ability and schedule.  Sign up below to get started on bringing your mountain bike skills to next level!
Each participant will be required to sign a release of liability and before participating in any of the above lessons. Each participant must be equipped with a mountain bike and bicycle helmet. Bicycle helmets must be worn while riding your bike during the lesson.
Testimonials:
"I'd been hearing about mountain biking for years, and always thought some boyfriend would eventually teach me – ! But once I met the man of my dreams and he wasn't a mountain biker, I realized I needed to take matters into my own hands, so I found out about Dean's classes online and rounded up some friends to come along. Dean was so sweet and encouraging, but not in a wimpy, let-us-off-the-hook sort of way – that we ended up finishing an amazing 2.5 hour ride I never dreamed I could have accomplished on my very first day! Although I did get a couple of bruises (my own fault) I laughed my butt off all day, and by the end, felt incredibly strong and powerful. What a confidence booster to kick butt at something that had intimated me so much before. Thanks Dean for the huge confidence boost and the fantastic experience!" Kuvy Ax, RootPR.com
"Dean's never-ending patience and encouragement helped me acquire the skill and courage to ride many of the same technical trails my husband rides. And even more importantly, he made the whole experience fun!"  Chris K., Boulder
"Being only too aware of the problems in attempting to teach your partner your favorite sporting activity I jumped at the opportunity to have her learn mountain biking from an expert. After a few lessons she now has her own bike and is looking forward to returning to Fruita this spring. Definitely worth it. Most definitely!"  Ian M., Boulder
"After a horrific first-time mountain bike ride at Hall Ranch with my husband which left me and my new mountain bike bloodied and bruised, I immediately decided that mountain biking was for insane people who had super-human leg strength. I had decided that my husband and I would have to settle for having different hobbies and seeing little of each other on summer weekends when he was on the trail.
That's when Dean stepped in and saved the biker in me and saved my marriage from "significant other coaching hell." He was adamant that I could mountain bike if only I learned how to do it properly. I finally agreed to go with him simply to prove to him that I stunk at biking. He proved me wrong. By the end of our first ride, I was bored of the easy trails and was eager to try a harder trail!
Dean is an exceptional coach for many reasons and one particular reason: You never know how good he is. With Dean, I always felt like he was completely happy riding at my pace. He has never made me feel as though I was holding him back. This was really important to me because I hate the idea of holding other people back. Dean is genuinely happy to simply ride his bike, at any level or speed that you need to go. He pushes you when you are ready, and backs off when you have reached your limit.
I now have a few seasons under my belt. My husband and I love to bike together all over the Front Range. We also mountain bike Salida, Buena Vista, Fruita, and Grand Junction regularly. All these wonderful experiences are because Dean had the ability and patience to show me what I was capable of as a biker. And an added bonus: He always notices and compliments my cool bike socks."  Liz W. Longmont
"I tried a lot of different ways to get my runner wife interested in biking and it was no fun for either of us. We met Dean and she immediately liked him and felt comfortable. She did a few group lessons and the improvement in her skills and attitude was phenomenal. Because of Dean's coaching, she's now fully capable on the bike. She even made a new (female) friend from the class, and we've gone riding with her and her husband. My wife still runs too much and I wish she rode more. But thanks to Dean's clinic, she now has the skills to enjoy the ride and we can do a fun sport together."  Mark S., Boulder
"Dean is an enthusiast mountain biker and his love for the sport comes through in his teaching. He's fun, knowledgeable, and has a seemingly never ending supply of patience and encouragement. I'd never mountain biked before, but before I knew it, I was climbing up rocks and zooming down hillsides. Dean has a great intuition and knows when to push his students and when to back off. I always trusted Dean to keep me safe, even when he gently pushed me outside my comfort zone. Both in the Boulder area and on the Western Slope, Dean guided me well as I learned the ropes of mountain biking from a true master."  Amber M., Boulder
"If I learned anything from my parents, it was never to coach or give lessons to your significant other in any sport – especially if that person is a beginner. Mini golf nearly ended their marriage, no kidding. When it was time for my wife to learn how to mountain bike, I knew that Dean was the perfect teacher and coach. Heck, Dean taught ME how to mountain bike years ago. Deans' patience, guidance, and skill as a coach helped make her into the bad mountain biking mama that she is today."  Jason W., Longmont
For questions, contact us at:
Return On Adventure
PO Box 423
Boulder, CO 80306
Phone: 1-720-515-7501
Email: active@adventurewithfriends.com
Hours of Operation: 8am – 5pm,  Mountain Time, USA